Kemi Ayorinde, the baby mama of popular singer, Lyta speaks on the state of her relationship as she showers the singer with appreciation text.
It would be recalled that Kemi had a rough breakout with the Lyta some months ago after calling him out for being a deadbeat father and for giving her infections.
In a recent question and answer session on Instagram, Kemi stated that their relationship is stronger than it can ever be while affirming that the breakout between both parties was necessary.
"I don't even know the word to use for it, but all I'm gonna say is we needed to lose eachother completely to realise we only ever needed each other," she said when asked about the state of her relationship.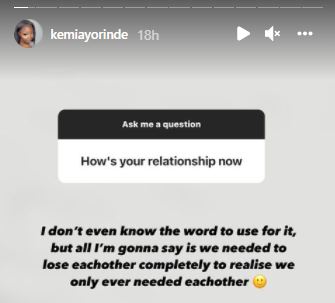 In another post, the baby mama penned an appreciation note to Lyta for giving their union a second chance.